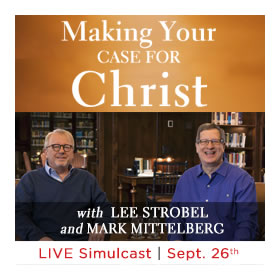 Making Your Case For Christ Live Simulcast Event
FREE EVENT – BUT PLEASE REGISTER BELOW – WALK-INS WILL BE ACCEPTED BASED UPON SEATING AVAILABILITY
Wednesday September 26 at 7:15PM
Living Waters Church – 649 Vail Road – Parsippany, NJ 07054
Doors open at 7pm – Light refreshments will be served – Simulcast will begin at 8:00PM
Sign up Below to reserve you seat.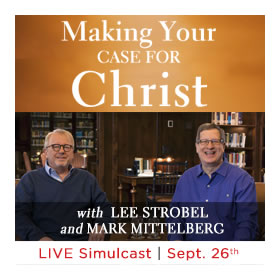 In 2017 churches around the world joined in a unique simulcast opportunity, The Case for Christ, with Lee Strobel. Listening as Lee retraced his spiritual journey from atheism to faith by showing how the evidence he obtained from experts in the field of history, archaeology, and ancient manuscripts led him to the verdict that Jesus truly was the Son of God.
Now, Lee Strobel and author, Mark Mittelberg will present your church or small group with a two hour simulcast event and a six-week training course that will help equip your members to not only know what they believe, but explain why they believe it!
Lee and Mark are ready to energize your church, and help them discover how to:
* Help their friends and family members open up to consider the case for Christ
* Describe their own personal journey with Christ and how it has impacted them
* Share with confidence about the biblical record of Christ—that Jesus really did what the Bible says he did
* Present the evidence for the resurrection of Christ—that Jesus died and was raised to life
* Explain the central message of Christ in an authentic and compelling way
* Help their friends and family members respond to the truth of Jesus