Due to the COVID-19 Quarantine, our graduates are missing out on many of the fun activities associated with graduation. Graduations are scheduled for the third week of June. As a church, we want to help make this time in their lives extra special. Will you join us in adopting a graduate, or two graduates, or all of them. Next to their picture is a list of the things they like. Just even sending cards to them will mean so much. You could even send a card of encouragement each week. Let's all rally together and show our graduates some love.
Cards

Balloons

Small Gifts

Signs

Flowers

Gift Cards (restaurants, Dunkin, Ice Cream…)

Candy
Contact Pastor Mike to get additional contact information for each graduate.
Jason Caprioni
Interests include music and cooking
Guitar Center (anything guitar related ~ he has bass, lead, and acoustic guitars), Caribbean/Jamaican jerk seasonings, medium sized shirts.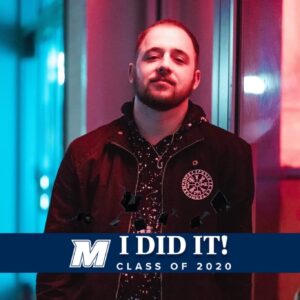 Paula Rae Bush
Montclair State University
Like dogs, traveling, running, working with children, Reeces candy, Gummy Bears. Favorite color is turquoise.
Parsippany High School
Colors: sky blue, pink, purple
Candy: Swedish Fish, Sour Patch Kids, Reeces Pieces, dark chocolate
Music: Jonas Brothers, Billie Eilish
Michael Capitello
Morris Knolls High School
Like reading, computers, video games.
He enjoys trying food from other countries, New York City, and helping people in need.
Arianna Zajac
Loves getting gift cards especially to Starbucks!
She enjoys playing softball, acting, and singing.
Colors: dark blue, yellow, lavender
John Capitello
Likes video games, cars, reading (about cars and cops)
QUARANTINE SCAVENGER HUNT 2
It's time for round 2 of our photo scavenger hunt. More categories, more challenges, more points.
Top 3 will win prizes!
Only one photo per person
You must be in the photo
Must submit by 11:59PM on May 31 to Pastor Mike via text (973) 865-6422
Spray Cleaner

Video Game Controller

Mismatched Socks

Pajama Pants

Stuffed Animal

Pencil With No Point

Item in Matthew 10:4

2
Baby Picture

Bible

Toilet Paper Roll

Hand Sanitizer

Rock

Stapler

Item Esau Ate With the Stew in Gen. 25:34
Slice of Pizza

Cross

Plant

Chewed Gum

Parent/Grandparent

Wearing a Glove

Item in Revelation 16:2
Hair in Pigtails

Wearing Roller/Ice Skates

Standing On Head

In the Car

A BIG W

Specific Color Mentioned in Ezekiel 27:24
CONNECTING POINTS ~
How To Connect With LWC During COVID-19 Pandemic
All In Person Meetings Have Been Temporarily Suspended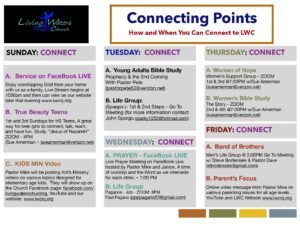 Living Waters Church Prayer Portal
women's ministry
women's bible study
2nd and 4th thursday at 7pm (Fellowshiop Hall)
Do you feel that you have "gaps" in your understanding of the Bible? Are there characters and stories that you have never read, and don't know where to start? Here is a chance to read, study together and fill in those "gaps".
Please join us for this time of learning and fellowship.
All are welcome to attend.
Cost of book: $5.00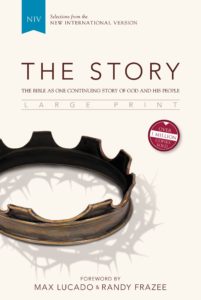 women of hope
1st and 3rd thursday at 7pm
The focus of this group is women in crisis, who meed to know that there is hope in their circumstance. The theme verse is Psalm 33:20, "WE wait in HOPE for the Lord; He is our help and ourshield."
men's ministry
Fridays…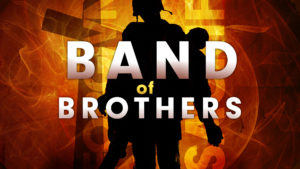 location: GoToMeeting Fridays at 2PM. Portal opens at 1:45pm
Download the GoToMeeting app on your computer or device.
Please join our meeting from your computer, tablet or smartphone.
Panera Bread ~ Route 46, Parsippany (in person study will return soon)
study: Touched By The Truth
We
will be extracting truths and exhortation from
Dave Edwards new devotional:
Touched By The Truth: My Daily Devotional
. From the book jacket:
"
…brings the comfort and
contentment that comes from walking God's way. You will find blessings upon blessings as you read the uplifting Scripture verses, daily devotions, and prayers from 51 trusted pastors and church leaders.
Each day learn more about Jesus—
the
Way and the Truth—and discover a life lived well with Him.
" A free copy of this
lovely bound book will be provided for all who join in.
Looking forward to see you there, men of God.