Adult Sunday School Classes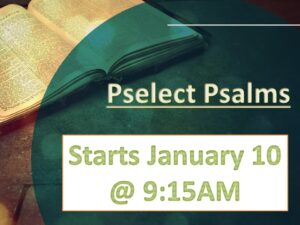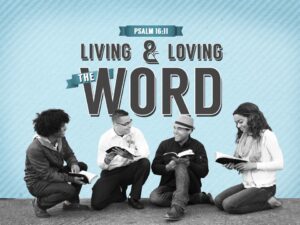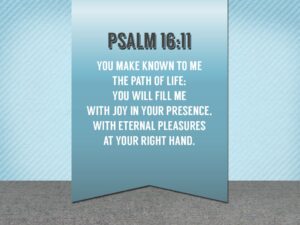 Most Christians love the Psalms and have one or two favorites, but few have mined the richness of all 150 psalms. Beginning January 10, Living Waters Church will relaunch its Sunday morning adult education program in a whole new format. Here's the plan:
Each week we will focus on three psalms. So, for January 10, we will focus on Psalms 1-3. During the week before class, each of us will read these psalms and jot in a journal the key idea of each one. You may write an observation, a question, a blessing, a challenge, a promise — anything that occurs to you about each psalm. Then "Pselect" the Psalm you want to bring to the attention of the class on Sunday.
Usually, Pastor David will host the class, but the "teaching" will be done by the students as we share our findings. Sound good? We will meet at 9:15am on Sundays in the lower level of the church building. Please come ready to share your Pselect Psalm each week.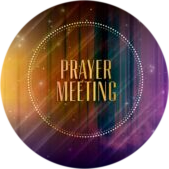 Join us for prayer each first and third Thursday evening as we seek the Lord together. All are welcome to attend. Bring a friend.
Where: LWC Fellowship Hall
Time: 7:00-8:00 PM
We will be observing social distancing measures. Masks will be optional until we reach 25 people.
Living Waters Church Prayer Portal
Steve, April 23, 2021 - 10:32 pm
My mom was diagnosed with colitis and has hip and knee pain. I am doing physical therapy so I can walk again and I have soreness in my knees and hip and a severe ankle sprain and it's not always a peaceful home environment to do therapy in! We are also trying to get a loan and insurance won't pay on one of moms hospital bills and a family relative is trying to destroy and separate my family. I also need a good job! Please pray for healing for both of us!
Elizabeth White, December 28, 2020 - 11:36 pm
Pray for 3 yr old Sophia, my grand-daughter and her 30 yr old mother, Claire, my daughter. Pray for God's loving protection, light, wisdom, safety, salvation, and health. They left home on 11.9.20, no one has heard nor seen them since, not even at Christmas, they are missing. Pray for authorities to be able to find them and bring them home to safety. Claire left home (with her young child) with no job, little money, emotionally distraught with a history of doing drugs. Pray that she accepts Jesus in her heart and His salvation. Pray for God's comfort and protection over Sophia. May angels watch over them, guiding them both quickly and safely home to family and to God. Thank you for your prayers.
Allison Lastfogel, December 15, 2020 - 9:10 am
Received a call at 7:30 this morning from Nick, Travis's Marine friend in Michigan saying Travis hasn't returned calls from yesterday and wasn't online which is very unusual (they're in touch every day). I ran to his apartment to find him sick in bed. Has to get Covid testing. Nick also told me Travis is struggling deeply and he is concerned for his safety. Please pray. Nick figuring out when to come down to spend time with him. Thankfully Travis moves back home after Christmas.
Anonymous, October 27, 2020 - 7:01 pm
Anonymous, September 10, 2020 - 4:30 pm
Father I come in Jesus name and blood. Because in my own name and blood I am neither worthy nor known. Be merciful to me the sinner! And forgive my every debt and sin towards You. Especially the foolish things I have said with my mind and tounge. Forgive me Father. As You have shown mercy to Nineveh show mercy to me oh God. As you have helped Your servants in the Bible help me Oh God. I know that in the Bible You have been shown to have the highest authority within an instance of Your voice the Universe was created. And whenever You healed the sick it was done immediately after You spoke a word. So I know that these prayers will be heard and my life will be changed for Your glory just as fast. I have fourteen unspoken requests that You know Oh Lord.I pray Father You may grant them both. . So that You oh God may be pleased.So that my mother and father may always have a reason to smile and be happy with me. To bring glory to Your name oh Father God. To give a reason for your servants to praise Your name. To strengthen believers faith. To give a reason for nonbelievers to believe. And to discourage Your enemies Father. Please grant the requests by your grace and mercy alone may this request may be even given now. May these blessings alone be dependent upon your mercy and grace now and forever. I know You have already granted these requests for me in the past and it has undoubtedly shown. I thank You for that. May you give me faith also to help me believe that Your promise of these requests still stand. And I ask again. But thank You knowing You have already granted these requests.Even though I already have them I ask again and that you take away any doubts in Your kindness. In Jesus name I accept and am grateful amen.
Margaret Shepard, April 2, 2020 - 3:37 pm
I just learned that a good friend from CCM passed away last night. Don't know the cause. She once told me that my speaking about my faith had helped her renew hers so I have hope of seeing her in Heaven. Please pray for the Kunz family and the CCM community.
Sue Angood, April 1, 2020 - 3:14 pm
PRAISE GOD!!! The teacher friend we,be been praying for just had her surgery. It was very major surgery removing a lot of organs from her body. She is recovering well. We got word today that she got her pathology report today and she is 100% CANCER FREE!!!
children's ministry
But Jesus called the children to him and said, "Let the little children come to me, and do not hinder them, for the kingdom of God belongs to such as these. (Luke 8:16)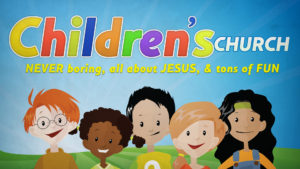 Our Children's Church meets on Sunday mornings during the adult sermon time and is for all kids K-5th grade.
The Gospel Project® for Kids immerses kids in the gospel through every story, theological concept, and call to mission from Genesis to Revelation. Ultimately, the gospel message changes everything; heart transformation can only take place when a child experiences the gosp
el. Through The Gospel Project® for Kids, kids will understand the Bible is not just a collection of stories, but one unified story—God's story of redemption. We are currently studying the Kings and Prophets.